Air composed in the beginning of the autumn, during a period of peace and sensuousness under the celestial voute. It's an air music. A flute and a high-pitched and crystalline piano start a simple and beautifull dialogue around a theme and mingle as filament of the Milky Way.

The musical theme was directly inspired by the re-reading, many years after my childhood, of the Antoine de Saint-Exupery's Petit Prince, whose heroic work was at the time one of the central pillars of my library.


| | | |
| --- | --- | --- |
| | Promenade sur la voie lactee | 5' |
In September 2018, following a request from the Brazilian performer Jose Eduardo MARTINS who particularly appreciates this very childish musical theme, and in perspective of his new CD in 2020 on the subject, I find myself adapting it under 3 new additional versions (see below). The first for flute, piano and harp, the second for two pianos, and the third for solo piano. A sublime version of the adaptation for piano op.19d, which we can listen to the recording in the video below, is now available under his fingers in this new opus Retour vers l'Enfance producted by ESOLEM PRODUCTION, released in July 2020.


Availables nomenclatures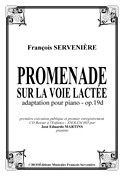 Buy the PDF for
piano via Paypal
1,99 RUR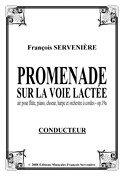 Buy the PDF for
orchestra via Paypal
3,99 EUR