Orchestral version from Un Bon petit diable songs. The opus could be interpreted like a concert symphonic work, with or without the Valentine Petit's french lyrics on whom musics have been first written. The Queue diable! opus will soon exist also in piano and voice version with the same possibilities of interpretation, original texts and musics being independent works.

The work is able to breathe orchestra's last. It is necessary to preview a resilient one's to play these 6 parts which are followed in the order below. Abracadabra, L'idiot and Valse de Juliette propose a few moments of respite. For the remainder, it is a cavalcade without rest which is proposed to a chief which will have to hold renes of his phalange like those of a stud-horse sting to the quick.

The composition doesn't have been played yet. Scores and an audio samples version is currently available below. Don't hesitate to contact us if you're interested by this work creation.


| | | | |
| --- | --- | --- | --- |
| | I. | Abracadabra | 3'05" |
| | II. | Entre rires et chansons | 4'24" |
| | III. | L'idiot | 2'23" |
| | IV. | Ou Mac-Miche a tout faux | 3'50" |
| | V. | Versez une larme pour Lucifer | 3'13" |
| | VI. | Valse de Juliette | 5'25" |
| | | | |
| | | Total time : | 23'20" |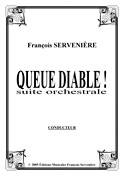 Buy the PDF of the
score via Paypal
9,99 €