During June of 2000, Benoit Schlosberg, Epinay-sur-Seine Municipal Academy of Music and Dance composer and director, whom I know since we worked together in La beo music team, proposes me a new adventure. I have to compose a music for a cine-concert. He is leading, with his municipality's help, a policy activates of musical creation in "soundtracking". As everybody knows, Epinay-sur-Seine is one of motion picture cities pioneers, helped by the presence of the famous french Studios Eclair. He conceives the idea to give some instrumental colors to XXth century forgotten old films. At first, the choice is going to a major work of art, L'assassinat du Duc de Guise , which he wants I recompose the original Camille Saint-Saens musical score. Negotiations with the royalties owners defeats. Mrs Courbet and Garnero, from the Archives francaises du film du CNC, then direct us to Cagliostro, a Gaston Velle and Camille de Morlhon's 14' silent film.

Indeed, at the time, the motion picture soundtrack doesn't exist. The orchestra leader or the pianist adds the sountrack to the pictures with a catalog of works. (cf. Alain Lacombe's Les musiques du cinema francais / Bordas publishing)

This first experience attracts a small public during this creation, the March 31st of 2001. Even if the synchronisation within orchestra and image is always perfectible, the Academy young interpreters with their teachers' help, made a cine-concert little success. It lets expect a future for the Epinay-sur-seine Academy project to become a music college for soundtrack. In July 2004, Benoit Schlosberg offers me a new musical adventure. I have to compose a new orchestral music to accompany a Victorin-Hippolyte Jasset's 1912' film Zigomar contre Nick Carter. The concert was held on January 29th, 2005 always in the same concert room in Epinay-sur-Seine. On this occasion, the score of Cagliostro is synchronized again on the film in a same orchestra of students' and teachers' beautiful performance.

The film can be found here on the Pathe's filmography referenced by the french Fondation Jerome Seydoux.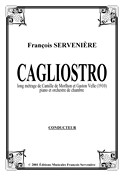 Buy the PDF of the
part via Paypal
3,99 EUR