During 2004, july, Benoit Schlosberg, composer and Epinay-sur-Seine Musical Academy's director, proposes me a new challenge. I've to compose a original orchestral soundtrack for a Victorin-Hippolyte Jasset's 1912'old silent film. On January 2005, the 29th, the music, played by this academy orchestra, is synchronized on stage at Epinay-sur-Seine Espace Cine with my first score on this type of picture, Cagliostro. To work on silent films requires of the composer to recover in the skin from a Jean Wiener, to completely illustrate the cinematographic matter by expressionnist music. The nuance isn't appropriate. It is necessary to enter directly in the image and, like a cartoon composer, to speak like situations and characters.

Zigomar contre Nick Carter tells in episodes the permanent struggle between a highwayman, Zigomar, and his equivalent in the police force, Nick Carter. Filmed one year before the realisator's disappearance, these small modules are temoins interest of the 1910-1929' period perfect agreement between cinema and detective novel in France and then film manufacturers' interest. The influences have been mutual. Literature's and cinema's own creativities has created enriching emulation. This parallele evolution generates a one thousand film corpus of this kind of stories.

The film can be found here referenced into the Internet Movie Database (IMDb).


| | | |
| --- | --- | --- |
| | Zigomar contre Nick Carter suite | 14 '53 " |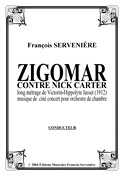 Buy the PDF of the
part via Paypal
3,99 EUR